No one wishes to take drugs, steroids or undergo painful & invasive procedures!
The OSMO Patch now offers a patented, drug free, alternative way to reduce the swelling, inflammation and the associate pain due to many joint conditions and is backed by a strong online presence with a large and growing community of advocates talking about the product. Currently we receive more over 100,000 unique visitors wanting to know more about the OSMO Patch each month.
The OSMO Patch was developed in Australia as a drug free natural alternative to relieving swelling, inflammation and the associated pain caused by many common soft tissue joint injuries. It is available through approved stockist as an OTC Class 1 Medical Device.
The OSMO Patch is well known for reducing the swelling and pain associated with conditions such as bursitis and baker's cyst, which are otherwise difficult to treat.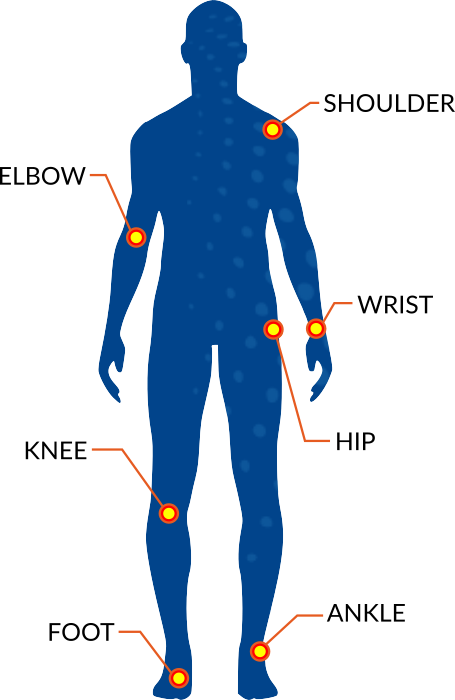 The OSMO Patch is recommended to be used in combination with adequate rest to the injured area, and is designed to induce blood flow and promote the removal of excess fluid from oedematous tissue and joints, hence reducing inflammation, swelling, pressure and the associated pain.
How It Works
For a better understanding of exactly how the OSMO Patch works watch the following video:
The OSMO Patch works by promoting the removal of oedematous fluid from the injury site as well as by increasing the blood flow below the region where the patch is applied (However, they should not be applied over open or infected wounds).
The OSMO Patch may also be used in complement with analgesics, NSAIDs and other such treatments if desired.
Furthermore, the OSMO Patch is also ideal for the following customers:
Individuals who may have already tried one or more other treatments with little to no benefit.
Individuals who may not be able to take certain medications due to their age or a pre-existing medical condition.
Individuals who simple prefer to try a natural approach to managing and relieving their pain
OSMO Patch Application
The OSMO Patch is simply positioned over the affected area prior to going to sleep, where they then go to work removing fluid and stimulating blood flow continually throughout the night while the individual sleeps. The patch is then removed and simply discarded in the morning and the process is repeated as required.
Real Product Feedback
Watch the video to hear how the OSMO Patch has helped these individuals suffering from both acute and chronic joint conditions as they tell their personal experience from using the OSMO Patch.
Become A Stockist
When you become an approved stockist we shall include your store listing on the OSMO Patch Stockist Page. Furthermore any inquires from customers that are local to your store shall also be referred directly to you.
Why not apply to become an approved stockist today!
Please Note: Due to our strict approval guidelines we do not allow the OSMO Patch to be sold or marketed on eBay, AMAZON or any other third party website. By placing a wholesale order for the OSMO Patch you confirm that your establishment is committed to providing your customers with a high standard of service and care.